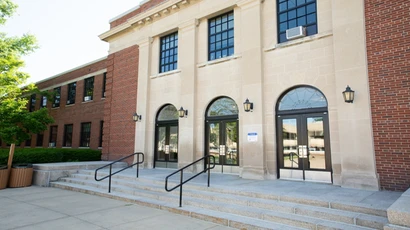 Recruitment Guidelines
Recruitment Guidelines: Introduction
Fredonia is committed to providing equal opportunity in employment by prohibiting employment discrimination because of age, color, disability, marital status, national origin, race, religion, gender, sexual orientation and veteran's status.
Fredonia, moreover, has a commitment to the principles of affirmative action, which, for recruitment purposes, entail positive ongoing efforts to achieve a representative workforce of women and minorities in all offices and departments. Affirmative action in hiring is required of all New York State agencies, but for SUNY campuses affirmative action in hiring is not only state policy; it is good educational practice.
Institutions of higher education have a special responsibility to provide their students with diverse faculty and staff who not only bring unique and valuable perspectives to their disciplines, but also provide students with different models and mentors. Students of the State University at Fredonia must interact with diverse faculty and staff as part of their preparation for an increasingly racially and ethnically diverse world of work.
Fredonia is well aware of the desirability of diversifying its workforce by criteria other than race, ethnicity or gender. This Recruitment Policy, however, does not speak to this further diversification, but only to that diversity mandated by federal and state affirmative action regulations.
In all stages of the recruitment process, therefore, faculty and staff entrusted with recruiting responsibilities shall strive to fulfill this university goal. Throughout the recruitment process affirmative action shall be a criterion for the evaluation of applicants and candidates. At every step of the search process we need to ensure that persons with ethnic and gender diversity are present. All decision makers will be guided by the principle that whenever candidates appear equally qualified for a position; the candidate whose hiring will contribute most to the achievement of the university's affirmative action goals shall be selected.
Extent of Guidelines
These recruitment guidelines apply to all searches for full-time (temporary and term), faculty and professional staff positions.
Adjunct Faculty
While searches are not required for part-time faculty, special efforts should be made when minorities and women are underutilized in the department involved to identify and appoint protected class candidates. (Periodically, the university shall place advertisements in area newspapers to augment its pool of adjunct faculty applicants.)
Assistant/Associate Chairpersons
When a department is seeking to appoint a member of the department as assistant or associate chairperson, the position shall be announced to all eligible members and affirmative action should be a consideration in the selection.
Temporary Appointments
In cases when a comprehensive search is not possible, a more limited recruitment effort may be made to fill the position with a temporary appointment. If the position is filled without a comprehensive search, a full affirmative action search shall be completed in the usual manner during the following academic year before the position is filled with a more stable appointment.
Before any temporary appointment can evolve into a tenure track appointment, a comprehensive search is required.