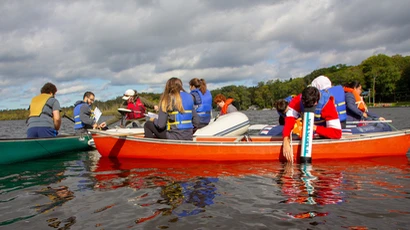 Philip Frankino's Research Testimonial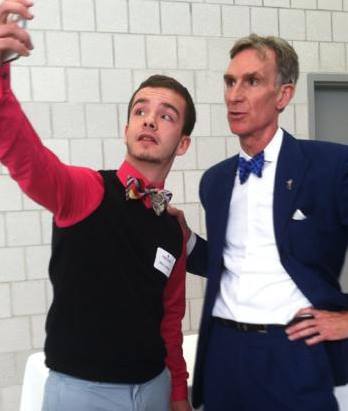 My undergraduate research experience, here at Fredonia, has been one of the best experiences of my college career. Not only has this experience prepared me for the "real world", Fredonia's science program encourages a higher level of thinking and problem solving in the lab environment. Entering my senior year, I can look back and say that when I joined Dr. Ferguson's lab as a sophomore, the world of science was quite overwhelming. Immediately, I was expected to ask questions and begin to apply the concepts and techniques that we learn in the classroom. The project I currently work on, mentored by Biology professor Dr. Ferguson, involves the translational regulation of a protein (Gurken) that is essential in the development of Drosophila melanogaster, the fruit fly. This is important to us because Gurken is a growth factor, in flies, that is similar to an important growth factor, in humans. Moreover, understanding similar proteins in a model organism can help understand the way these proteins are made and how they work in humans. Along with my research here, I have been able to attend many conferences to share my work, including the 56th Annual Drosophila Research Conference as well as the SUNY Undergraduate Research Symposium, among others. Giving talks and presenting posters about my research has benefitted me greatly, because as a research scientist, it is important to be able to communicate your findings and ideas to other scientists.
Throughout my research at Fredonia, I have learned valuable techniques and skills that I have been able to apply in other lab settings. Specifically, this summer I traveled to La Jolla, California, to work as a summer intern at The Scripps Research Institute, under Drs. Jeff Kelly and Sandra Encalada. There, I studied a model of Transthyretin (TTR) Amyloidosis, in Caenorhabditis elegansmodel that is thought to be the first of its kind. Human TTR amyloid diseases are a consequence of the TTR tetrameric protein dissociating and misfolding, followed by subsequent aggregation. Resulting, patients who suffer from this disease experience loss of feeling and movement in their arms and legs, among other maladies related to this protein aggregation. My summer research has complemented much previous work done at Scripps, working towards proposing novel drugs for the treatment of such diseases.
Philip Frankino
Biochemistry major