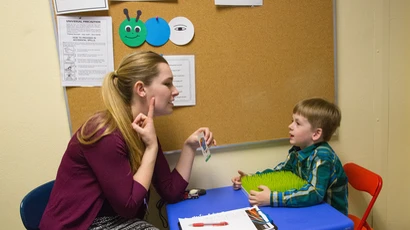 Youngerman Center for Communication Disorders
Call 716-673-3203 to reach the Youngerman Center
The Henry C. Youngerman Center for Communication Disorders is open to the members of the campus and to the public/community, and offers Audiology and Speech-Language services (in-person, telepractice). Masks are required, per the CDC and New York State Department of Health recommendations. The Youngerman Center Stroke/Head Injury Support Group is not currently meeting.
Youngerman Center Preschool Program (YCPP) Information
2023-2024: Enrollment is currently closed
2024-2025: Families may complete and submit pre-registration forms
The YCCP in-person programming is in operation Monday - Thursday from 8:30-11:00 am during the Fall, Spring, and Summer I semesters. Preschool is not in session during Fredonia campus breaks and National Holidays.
The program is run by three graduate Speech-Language Pathology students in the CDS masters program and overseen by a licensed Speech-Language Pathology clinical supervisor who also acts as a classroom teacher and program coordinator.
Preschool instruction is hands-on encompassing multisensory activities for all developmental and educational domains with a focus on social/emotional, language, and early literacy.
Enrollment is four mornings per week, Monday - Thursday, from 8:30 to 11:00 am
Classroom size is limited to 12 children.
For more information, please contact Missy Hooper, Preschool Program Coordinator, by email at Melissa.Hooper@fredonia.edu or by phone at 716-673-4676
Youngerman Center Online Payments
The Youngerman Center for Communication Disorders supports equitable treatment of clients. No individual shall be discriminated against based upon race or ethnicity, religion, age, gender, disability, or sexual orientation. We provide all services in a manner consistent with the American Speech-Language-Hearing Association Code of Ethics.
Mission Statement
To educate, train, and inspire graduate students to become responsible, competent, and skilled speech-language pathologists, while providing quality and evidence-based assessment and intervention services to children and adults from the campus and the community.
The Youngerman Center strives to accomplish our mission by:
Employing highly trained clinical supervisors who are licensed and certified in diverse specialty areas.
Completing diagnostic evaluations of speech, language, hearing, and swallowing disorders for culturally, economically, and linguistically diverse populations of persons with communication and swallowing disorders in all age groups across the life span.
Providing counseling, intervention services, and support to clients and families regarding communication, cognitive, and swallowing disorders.
Providing clinical environments for student clinicians to meet the requirements for obtaining ASHA certification of Clinical Competence in Speech-Language Pathology, New York State Licensure in Speech Pathology, and New York State Initial/Professional Certification for a Teacher of Students with Speech and Language Disabilities.
Collaborating with professionals within and outside the campus to provide quality services to clients and family members.
Adhering to ASHA's code of ethics, professional standards, scope of practice, and evidence-based practice.
Abiding by HIPAA and other regulations to maintain client confidentiality and privacy.