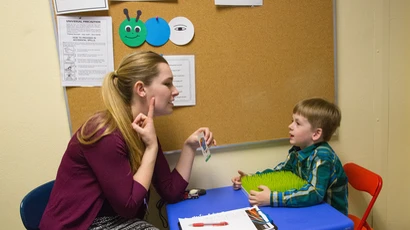 Speech Production Laboratory
The Speech Production Laboratory is part of the Department of Communication Disorders and Sciences at the State University of New York at Fredonia, developed from the research of Bridget A. Russell, Ph.D., Licensed Speech-Language Pathologist, CCC/SLP.
The laboratory consists of equipment for sensing ventilatory and kinematic respiratory data during speech and rest breathing. Complex movements of the rib cage, abdomen, as well as airflows and pressures that are generated in the vocal tract during speech are measured. Simultaneous measurement of gas exchange (O2 and CO2) during speech is also recorded.
The research facility primarily investigates normal speech breathing in adults and children including professional voice users. However, it applies basic research findings to the study of voice disorders and to the diagnostic evaluations of individuals with disorders such as cancer of the larynx, voice disturbances, cerebral palsy, stroke, head trauma, dysarthria, and dysfluency.
Please contact Bridget Russell at 716-673-4616 (bridget.russell@fredonia.edu).