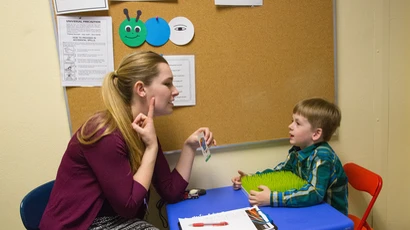 CDS Frequently Asked Questions
What factors/qualities are evaluated when applicants are considered for acceptance into the graduate program? Academic performances, experiences, extracurricular activities, recommendations, and intent letter.
Does the Fredonia application require the Graduate Record Examination (GRE)? No.
When will I get notification of my application's acceptance, declination, or wait list status? Withe the goal of informing applicants as soon as possible, the Office of Graduate Studies sends acceptance, rejection, and wait list notifications by electronic mail on a rolling basis, between late November and April.
What types of clinical placements are available? In addition to our departmental clinic, the Youngerman Center for Communication Disorders, Fredonia has agreements with many hospitals, outpatient rehabilitation centers, skilled nursing facilities, adult treatment centers, clinics, childhood centers, and schools.
Are externships available in my hometown (especially for those living in Canada or another state)? All Students should anticipate completing Graduate Student Teaching and/or Advanced Clinical Practice within the Western New York area and make housing arrangements accordingly. Placements outside of the Western New York area are possible, but are subject to establishment of an Affiliation Agreement, to the availability of an ASHA certified supervisor, and to the distance from Fredonia. Placements in Canada are limited due to availability of ASHA certified Speech Language Pathologists and to the preferences afforded to Canadian University students. Establishing outside affiliation agreements is a time consuming process. As such, new affiliation agreements are only pursued if they can be established within a reasonable amount of time and effort.
Will the Master of Science degree program meet Canadian requirements? As Fredonia has graduated many Canadian students, we work with them to ensure their program will meet their certification requirements. Ultimately, each student is responsible for tracking clinical hour requirements of the Canadian providence in which they seek to register. Those who plan to work in Ontario will need to consult with the College of Audiology and Speech-Language Pathology of Ontario (CASLPO) requirements.
My undergraduate degree is not in Communication Disorders. Can I be accepted into the graduate program? If you have an undergraduate degree in a different discipline and have earned a minimum of 3.0 GPA, the department will advise you of a six-course prerequisite series you may complete in to become eligible to apply to graduate programs in Speech-Language Pathology.
Will I be eligible for NYS Teaching Certification? The awarding of Fredonia's M.S. in Speech-Language Pathology is a verification that the candidate is eligible to for Initial Certification, Teacher of Students with Speech and Language Disabilities (TSSLD). To that end, CDS audits candidate credentials and verifies that they have met the requirements. In some cases, candidates must complete additional coursework, such as a certification workshops or a course.
Are financial aid grants, assistantships, or tuition waivers available? If so, how do I apply? All accepted students may be considered for any financial assistance available, including scholarships and assistantships, based upon merit and financial need. Apply for available assistantships through Human Resources.