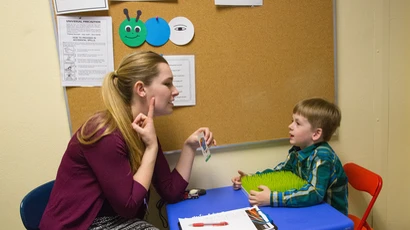 Degree Requirements for Communication Disorders and Sciences
For specific requirements, select one of the following links:
Our Master of Science in Speech-Language Pathology ensures that all graduates meet the academic and clinical hour requirements for ASHA certification, for New York State licensure, and for Initial Certification as a Teacher of Students with Speech and Language Disabilities (TSSLD). This is a two-year program that requires attendance for five consecutive semesters: Fall--Spring--Summer--Fall--Spring.
To be considered for graduate admission, an applicant must have:
a communication disorders and sciences bachelor's degree from an accredited institution. Applicants with a bachelor's degree from a non-CDS discipline will be considered if they have earned a minimum of 18 credit hours in communication disorders and sciences courses, to include: at least 9 credit hours related to the normal development of the sciences related to speech, language, and hearing; 6 credit hours in speech-language disorders, and; 3 credit hours in audiology. Our department offers those courses that enable a candidate to become eligible.
a minimum grade point averages of 3.0 overall in and within CDS coursework
three-credit courses in statistics, psychology, biology, and physics or chemistry
submitted a completed graduate application and supporting documents via CSDCAS by the established deadline
Curriculum Documents
Our program is happy to host your visit. Contact CDS Graduate Advisor Tim Overbeck (overbeck@fredonia.edu) to schedule your tour.
Upcoming Graduate Program Virtual Open House Events: