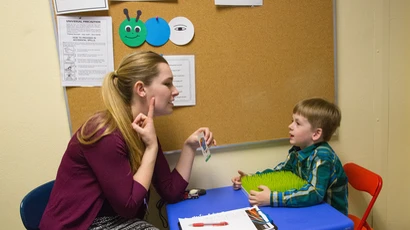 Schedule an appointment
Call 716-673-3203 to reach the Youngerman Center
The center is open from 8:30 am to 4:00 pm Monday though Thursday and operates according to Fredonia's academic calendar.
The Youngerman Center accepts referrals from physicians, other health care professionals, school personnel, family members, and self-referrals.
Speech/Language and Audiological services require a physician's referral. Specific information about your insurance requirements will be discussed when you call to set up an appointment. Otherwise, anyone can make a referral if there is a concern about an individual's speech, language or hearing.
There are no eligibility requirements regarding age, type of disorder or severity of disorder other than a required referral from a physician in some cases.
People of all ages from toddler to geriatric age level are eligible.
An evaluation of speech-language skills or hearing is normally required at the first appointment.
The evaluation will allow for a determination of the type and extent of the speech, language, or hearing disorder.
Following the completion of the evaluation, a report will be written detailing the results of the testing completed and the type and severity of the disorder.
If therapy is recommended for a speech-language disorder, the report will include recommended long-term and short-term therapy goals.
Individual therapy sessions can be provided at the Youngerman Center.
The Youngerman Center for Communication Disorders supports equitable treatment of clients. No individual shall be discriminated against based upon race or ethnicity, religion, age, gender, disability, or sexual orientation. We provide all services in a manner consistent with the American Speech-Language-Hearing Association Code of Ethics.
To schedule an appointment
Speech-Language Services (Evaluations and Therapy): Julie Williams (Clinic Director) at 716-673-3203.
Hearing Evaluation and Hearing Aid Adjustments: Clinic Receptionist at 716-673-3203.
Balance Testing(ENG): Clinic Receptionist at 716-673-3203.