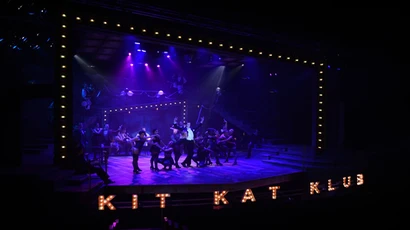 Past Seasons
The Department of Theatre and Dance, in its various incarnations, has been producing plays and musicals on the Fredonia Campus since 1959. Over the past 50 years we have offered a wide selection of classical, contemporary play, dance, musical theatre show and concerts.
From 1959-1977, the producing organization which put on the theatre season was known as the Mummers (see this link for a description of the term "mummers."). The plays were produced as extracurricular activities, many of them directed by Dr. Alice E. Bartlett (for whom Bartlett Theatre is named) and Dr. Georgiana von Tornow (for whom a scholarship has been endowed).
The Department of Theatre Arts was officially created in 1972 by founding chairman Dr. Jack Cogdill upon the opening of the Rockefeller Arts Center. In 1977, the Mummers name was no longer used for the Mainstage Season. In 2000, a generous donation resulted in the creation of the Walter Gloor Mainstage Season.
Use the links below to view our theatre and dance seasons from the past.
View our current season or choose a past season, below: