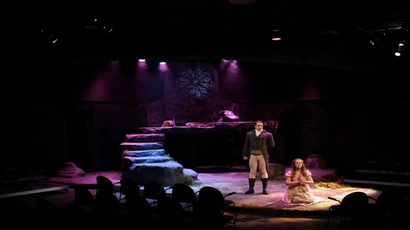 Theatre and Dance Scholarships & Awards
The Department of Theatre and Dance offers scholarships and awards to students who demonstrate outstanding academic or talent potential. At the end of each academic year these scholarships and awards are determined by the faculty and are made either as tuition remission or as cash awards. 

Scholarships & Awards by Program within The Department of Theatre & Dance 2020/2021
* Denotes scholarships devoted to or partially to, incoming first time full time students
BA Theatre Arts & Unrestricted by Major
Alice Bartlett Memorial Fund
Bea Ullman Scholarship Fund
Dept. Award for Excellence in Stage Management
Gaeddert Theatre Arts Endowment
Georgiana VonTornow Endowment
Gertrude Prushaw Maytum Scholarship for Theatre Arts *
Jack L. Cogdill Scholarship *
John S. Mintun Scholarship
Merrins Theatre and Dance Endowment Fund
Michael J. Loughlin Scholarship for Creative Uniqueness
Midtown Realty Endowment
Nelson, Delores J. Scholarship
New York State Federation of Home Bureaus, Inc. Scholarship in Honor of Sally Bulger
Paul F. and Mary Joyce Schaefer Endowment
President's Award for Excellence in Theater
Robert L. Gloor Endowment for Theatre and Dance
Robert Marvel Award
Theater Arts Outstanding Senior
Walter Gloor Scholarship Endowment  *
BFA Acting & BFA Musical Theatre
Bruce K. Walford Scholarship
Harry John Brown and Paul W. Mockovak Award in Performing Arts
Tim Douglas Jensen, class of 1990, Endowment *
Uprichard, Albert E. and Lillian Endowment *
BFA Dance
1929 Graduates Fund Classical Ballet Award
Carnahan Jackson Dance Scholarship
James and Marcia Merrins Dance Award
Myers & Murphy Endowment for Dance
Trent M. Illig Memorial Scholarship
BFA Production & Design
Juergen Banse-Fay Scholarship
Keith Cronin Memorial Scholarship
Laurel Walford Costume Scholarship
Mary and Steve Rees Rising Junior
University Scholarships & Awards
In order to be considered for Fredonia scholarships, all First-time First-Year applicants must complete the admission application process (complete and submit either a SUNY Application or The Common Application).
President's Award of Excellence
Fredonia Scholar Award
Dean's Scholar Award
Fredonia Promise Award
Honors Program Scholarship
Keeper of the Dream Scholarship
President's Out of State Scholar Award
International Scholar Award
SUNY Empire State Diversity Honors Scholarship
Carnahan-Jackson Scholarship
Alumni Scholarships
Hispanic College Fund (HCF)
Other University scholarship opportunities are available as well. Please contact The Office of Student Affairs 716-673-3271 www.fredonia.edu/finaid/scholarship-opportunities
Past Scholarship Winners