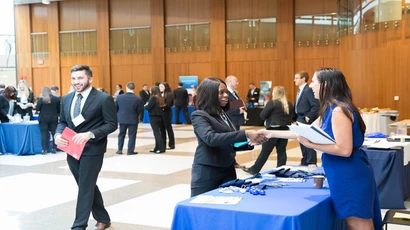 How to write an electronic cover letter
Other than your resume, your cover letter or e-letter (electronically sent cover letter) is the most important document that will impact your being selected for that all important interview. Just as with your resume, your electronic letter should contain the most important facts about you that are valued by the prospective employer. A properly written letter will cover at least the following: it should identify the position you are applying for, highlight your skills and qualifications, and show how you fit the employer's needs.
An electronic cover letter should be concise and paint an accurate picture. Keep it simple and on target. Your letter should use a standard business format.
For specific details about writing resume and/or cover letters for government jobs - review guidelines posted at https://federalresumeguide.com.
Electronic letters are sent via e-mail and tend to be very brief. It is important to include the position you are seeking in the SUBJECT of your e-mail. Then in the BODY of your letter, sell two to three points about yourself that will demonstrate that you have what the employer is looking for. Try to make your cover letter specific to the employer. The more targeted your letter is to an individual organization, the more effective it will be. Remember to research the organization you are applying to so that you can include relevant facts.
Be sure to include your cover letter at the top of your e-mail with your electronic resume following below. These documents are combined into one e-mail and then sent to a potential employer.
Electronic Cover Letter Tips
DO NOT:
Bold, underline, or italicize
Use graphics or shading
Tab, indent, or center text
Insert symbols or use columns
Use anything other than 12 point font
Use any font except for Times New Roman (if you must use a different font, use Sans Serif)
DO:
Include position title in the SUBJECT line of e-mail
Align all text to the left
Use spaces to separate paragraphs
Use 12 point Times New Roman font
Test letter before sending it to employers by mailing it to yourself or to a friend
Mail a copy to your top employers
---
Sample Electronic Cover Letter
Your Current Address
City, State Zip Code
Date of Letter

Person's Name, Title
Organization Name
Street Address
City, State Zip Code
Dear Ms. or Mr. [last name]:
Opening Paragraph - Tell why you are writing; name the position, field, or type of work for which you are applying; mention how you heard about the opening or organization. Try to get the reader's attention.
Middle Paragraph (or two) - Describe your most important qualifications in relationship to the position, field, or organization for which you wish to be considered. Explain why you are interested in working for this employer, and specify your reasons for desiring this type of work. Emphasize skills or abilities you have that relate to the job for which you are applying.
Refer the reader to your resume below, but do not simply repeat the facts on the resume. Instead, interpret the facts on the resume from the employer's point-of-view. Help the reader see between the lines and draw conclusions. Be personable and enthusiastic, but also brief and specific. Remember that the reader will view your letter as an example of your writing skills.
Closing Paragraph - Use this paragraph to discuss what comes next. If references have been requested and the CDO has or will send your file, mention that fact. You can request an application or make yourself available for an interview. You can also make a specific request for an interview and indicate that you will phone after a specific amount of time to see if an interview can be arranged. Whichever approach you use, be sure that whatever action you are requesting of the reader is clear. Finally, thank the reader for his/her consideration.
Sincerely,
Your Typewritten Name