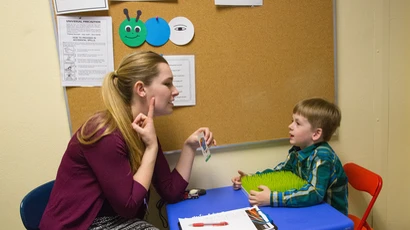 Communication Disorders and Sciences Policies
Communication Disorders and Sciences holds that to acquire the knowledge and skills requisite to the practice of speech-language pathology to function in a broad variety of clinical situations, and to render a wide spectrum of patient care, individuals enrolled in our graduate training program must have skills and attributes in five areas: communication, motor, intellectual-cognitive sensory-observational, and behavioral-social. These skills enable a student to meet graduate and professional requirements as measured by state licensure and national certification. Many of these skills can be learned and developed during the course of the graduate program through coursework and clinical experience.
CDS Graduate Program Eligibility Requirements and Essential Functions
A graduate student holds the rights to be treated in a nondiscriminatory manner and to file a grade appeal. If the graduate student claims that an earned grade is based on discrimination, the student must file the discrimination claim first. Upon resolution of the discrimination claim, the student may file the grade appeal.
The State University of New York at Fredonia's policies for a grade appeal and discrimination are located at:
Graduate Student Grade Appeal Policy