THEATRE ARTS AND DANCE AUDITION REQUIREMENTS
---
All auditionees should submit with their application, or bring with them on the day of their audition, a résumé of previous experience in theatre and/or dance, a recent photograph, and two (2) letters of recommendation from individuals who can best provide an evaluation of your ability and potential. A "Question and Answer" session will be held from 12:15 to 1:00 pm on audition days. Parents/guardians are invited to attend this session.
The Department of Theatre and Dance does not accept videotapes or DVDs as a substitution for a live audition. You must audition in person. Exceptions can be made for international students or for certain extraordinary circumstances. Please see below for requirements for international students.
---
BA General Theatre
The Bachelor of Arts degree (BA) in Theatre Arts does not require an audition for admittance. Any student accepted by the university may declare Theatre Arts as their primary major.
BFA Acting
Performance of two memorized monologues not to exceed a total of three minutes. They should be contrasting pieces from modern/contemporary dramatic literature and should relate to the individual's own age and life experiences.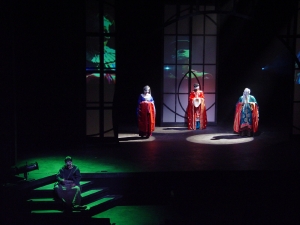 BFA Technical Production and Design
Students must interview with the Production Design faculty. This thirty minute interview will be an opportunity for the faculty to learn the prospective student's background, educational goals and their potential for success in the BFA program. For the interview, prospective students must provide the following:

-A brief resume listing previous theatrical experience

-Two letters of recommendation from teachers, employment supervisors or theatre professionals

-Examples of their work to show at the interview. This may include sketches, renderings, art projects, drafting, photographs of production work or anything that demonstrates design and/or technological abilities.
Students may choose to put this in a portfolio format, but an organized collection of materials is acceptable. Any submitted materials will be returned at the end of the interview session.
BFA Musical Theatre
An interview with representatives of dance/music/theatre.
A solo performance of two memorized songs which demonstrate the voice at its most comfortable and flexible sound. Examples should include selections from the repertoire of musical theatre and/or opera. Songs do not need to be more than 4 minutes combined.
The performance of two memorized monologues do not need to be more than 2 minutes combined, chosen from modern/contemporary dramatic literature. Examples should relate to the individual's own age and life experiences.
A group dance audition held in the Merrins Dance Theatre from 11:15 am to 12:15 pm.
Improvisations/exercises as suggested by the panel of auditioners.
Sight reading at the piano.
The Aural and Notational Skills Test.
BFA Dance
Auditions will be held in the Merrins Dance Theatre (258 Rockefeller Arts Center) from 9:00 AM-1:30 PM Students should:
Arrive by 9:00 a.m. to sign in for the audition and warm up. The audition class begins at 9:30 a.m.
Bring ballet and jazz shoes, and be prepared to dance in bare feet.
Bring a 3x5 photograph of yourself in leotard and tights, and attach to your resume (photos do not need to be professionally shot), a resume of all previous dance experience, and two (2) letters of reference from individuals who can best speak to your abilities and potential.
The audition class will include:
Ballet barre
Ballet enchaînements (combinations)
Modern spinal warm-up
Modern phrases
Jazz phrase
International Students
The audition requirements for international students are the same as above, with the exception of the dance portion of the BFA Musical Theatre audition (see below). Students submitting auditions via CD, DVD, or online video should take extra care to insure that their recording is of the highest quality possible, particularly in terms of sound recording. The higher the quality of the video, the easier it is on the faculty who are assessing your audition and talent.
Please send any CD or DVD material to the department at the address listed on the left hand navigation bar. If you choose to submit an online recorded audition, please use either Youtube or Vimeo, and supply us with the link using the email address theatre.dance@fredonia.edu. Please be sure to set your audition to "Private" status so that access to your audition is limited to those who have the link.
The dance requirements of the BFA Musical Theatre audition for those submitting a recorded audition are as follows:
1. Current photos(s) in leotard (women), or form-fitted T-shirt and tights (men)

2. Video (prefer DVD format, must be Zone 1)
Ballet – 3-5 minute selection of ballet barre work recorded in profile. Must include plies, tendus, and grands battements. Also, center floor jumps recorded facing the camera.
Modern Dance/Jazz - 2-3 minute modern/jazz combination of the student's choice. Must include leg extensions, a variety of turns and jumps (minimum of 3 types of each), and some floor work. This combination should show the student's strength, musicality, flexibility and overall performance ability.