Business Administration Advisement
Advising Corner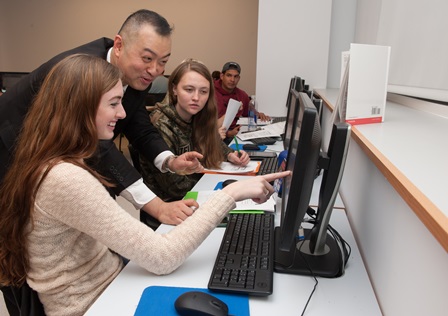 Students at Fredonia bear full responsibility in familiarizing themselves with all the graduation requirements in effect at the time they were admitted to the university. However, the Business Administration department has always taken the academic advising of its students seriously. Our objective is to help each student take courses that are relevant to their major and career goals while completing the graduation requirements in a timely fashion. To that end, as soon as a student is admitted to one of our programs, they are assigned a full-time faculty member as their Academic Advisor. Our belief is that through mutual communication between the advisor and the advisee on a periodic basis, this objective will be achieved.
In order to find out who your faculty advisor is:
Log on to "Your Connection"
Click on "Student Services"
Click on "Student Records"
Click on "Academic Transcript"
Click on "Submit"
See your advisor's name on the top left corner of the transcript.
While on Business Administration Department's website, click on Faculty/Staff and then click on your advisor's name for their office location and office hours.
If an advisor has not been assigned to you, be sure to call the Department at 716-673-3505.
Graduation Requirements:
You are subject to the degree requirements spelled out in the University Catalog that was in effect at the time of your admission.
You must complete a minimum of 120 credit hours of courses (each course counted only once).
No more than four credit hours of 100-level Physical Education (PHED) courses will be counted towards the minimum 120 credit hours.
Every student needs to complete at least 45 credit hours of Fredonia courses (Residency Requirement).
At least 66 of the minimum 120 credit hours required for graduation should come from courses outside your major discipline.
You need to have all the Fredonia Foundations (FF) requirements fully satisfied.
You must complete every one of the courses required for your major.
In addition to a minimum overall Grade Point Average (GPA) of 2.00, you need to have a minimum 2.00 GPA among the courses required for your Major (This does not mean that you should have at least a "C" grade in every course; just a minimum "C" average among all courses).
You must pass every one of the "Supporting," "Lower Level Business Core," "Upper-Level Business Core," and "Major" courses with a grade of C- or better.
You need to formally declare a specific Major in Accounting, Business Administration, Finance, Management, Marketing, or Public Accountancy.
You must complete an Internship (minimum of 1 credit).
No more than six credits of internship can be applied towards major course requirements (does not apply to Public Accountancy major).
You must either fully complete the requirements of any declared Minor/2nd Major or undeclare such programs in order to be able to graduate in your 1st Major.
You must complete at least 45 credits of any university-wide 300/400-level courses (Upper Level Requirement).
Advising Resources: