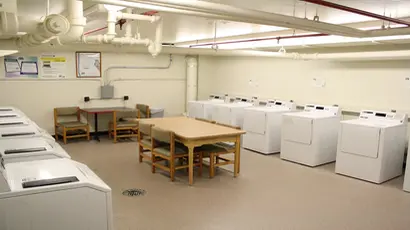 About Washers and Dryers
General Information: The Faculty Student Association and Residence Life have teamed together to provide use of washers and dryers for all resident students on campus at no extra charge. The washers and dryers are located in a designated laundry room within each residence hall.
LaundryView™: With LaundryView™ students can monitor the status of washers and dryers in connected laundry rooms through a web browser. It is now easier than ever to see if a washer/dryer is available or if your laundry is done, just visit www.laundryview.com.
Check Availability: See the status of washers and dryers on your computer before taking a trip to the laundry room.
Receive Notification: an alert can be sent to your computer or cell phone when your laundry is done or when machines become available.
Save Time: LaundryView™ helps you avoid the busiest times in the laundry room.
Easy to Use: Just log on and select your laundry room.
Report a Problem: With LaundryView™ it's easy to keep all machines up and running.
Malfunctions and Breakdowns: If there is a malfunction or problem with a machine, please use the CSC Service Request Portal or call CSC Service Works at (844) 272-9675. You will need to tell them the following information:
Machine ID
Nature of Problem