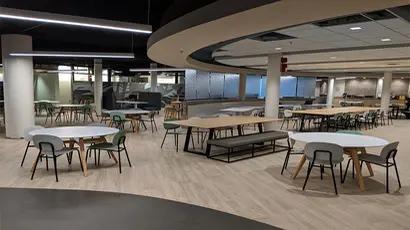 Willy C's Food Court in the Williams Center & Menu
Willy C's in the Williams Center features a variety of grab and go fast food selections.
The Grill: Offers burgers, fries, chicken wings, tacos, nachos, chicken fingers, mozzarella sticks, pizza logs, soup, and more.
The Deli: Enjoy toasted subs, wraps, and sandwiches made with your favorite meats (yes, including chicken fingers) vegan proteins, cheese, and condiments.
Pizza: Selections include cheese, pepperoni, specialty pizza, pizza subs, and whole pies made to order.
Also Serving: Fresh salads, veggie boats, sushi, fruit, yogurt, chips, cookies, and muffins.