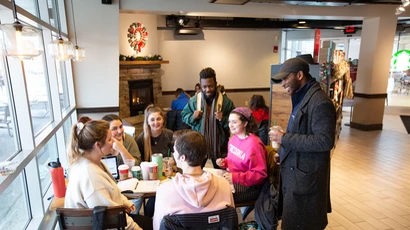 Starbucks
FSA is proud to operate the only Starbucks within 20 miles of Fredonia.
Starbucks provides fresh, rich-brewed, Italian style espresso beverages, more than 30 blends and single origin coffees, hand-crafted espresso and blended beverages, and full leaf Teavana® teas.
Starbucks offers Frappuccino® Bottled Beverages, Ethos® Bottled Water, Horizon Organic® Milk, Espresso Drinks, Evolution Fresh Juices, Teavana® Iced Teas and Starbucks Refresher® Beverages. Also offering warm breakfast and lunch sandwiches, assorted pastries, grab and go snacks, coffee mugs, and assorted gift items.
If you have a Starbucks gift card you can check the balance in two ways:
Phone: 1-800-782-7282 (1-800-STARBUC)