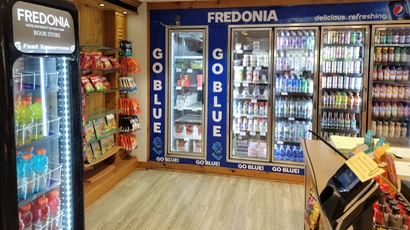 About FREDFunds Account
The FREDFunds Account has 7 options: $400, $500, $600, $700, $800, $900, $1,000. The FREDFunds Account is a prepaid, taxable account. This account offers you the convenience of purchasing items at select locations on the Fredonia campus without carrying cash, just present your FREDCard. To open a FREDFunds Account Plan, please enroll online through myFSA.
Cash Withdrawals From This Account Are Not Allowed: Any funds remaining in your FREDFunds Account at the end of the semester will be rolled over to the next semester. In addition, you will also receive and be billed the amount selected for Fall on the Spring University Billing form. See terms and conditions for details regarding refunds.
Adding Money to Your Account: Adding money to your FREDFunds Account is convenient and easy. It can be done online by going to myFREDCard.com or by stopping into the FSA office located in Gregory Hall.
Used at the following locations:
Cafes & Concessions Cafés
Convenience Store
Cranston Marché
FSA Office
Media Center
Reed Library
Starbucks
Fredonia Ticket Office
University Bookstore
Willy C's
Used for the following services:
Card Replacement Fee
Dining Services
Gift Cards
Guest Meals
FAX Services