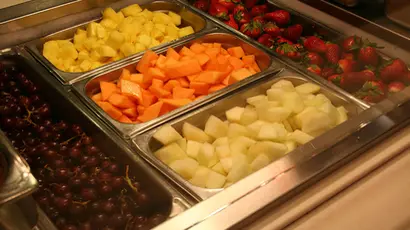 Cranston Marche FSA Dining Hall & Menu
The Cranston Marché dining center on University Commons' second floor is our open kitchen All-You-Care-To-Eat dining hall was designed for total transparency leaving out any mystery. All of our Chef's creations and made-to-order entrees are prepared and served right in front of you.
Cranston Marche has 4 main services stations:
Pantry: Showcases freshly made sandwiches and wraps, farm fresh salads, fresh fruit, and soup.
Pizza & Pasta: Hearthstone fresh baked pizza with a variety of toppings and many types of pasta.
Grill: Classic entrees with appropriate starches and veggies.
Ice Cream: How about an ice cream cone, hot fudge sundae, or banana split?
Chef's Creations and Made to Order Breakfast items offered in the morning seven days a week.