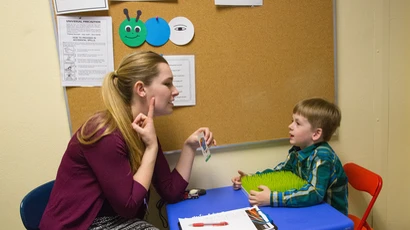 Communication Disorders and Sciences (CDS)

Check us out on Facebook.
News and Events
Youngerman Center for Communication Disorders is Open - Audiology and Speech-Language Services at the Youngerman Center are open to the campus & community. Community members may call for an appointment at 716-673-3203.
Stroke/Head Injury Support Group Meetings are on the following Tuesdays at 3 p.m. in E148 Thompson Hall:
February 21;  March 7 & March 21;  April 4 & April 18;  May 2
The Youngerman Center is offering these support group meetings for stroke and head injury survivors and their families. A typical group meeting includes activities to assist stroke and head injury survivors use compensatory strategies to improve communication skills and to provide educational information and an opportunity to socialize and share experiences. Light refreshments are provided. Meetings are free and open to stroke/head injury survivors and their families. The Youngerman Center recognizes that there are individuals in our community whose insurance benefits for therapy have been exhausted but whose hopes for improvement remain. Please contact Julie Williams, Coordinator (Julie.Williams@fredonia.edu, 716-673-4618 or 716-673-3203) for more information about attending this group.
Take action to protect yourselves and others from COVID-19 by monitoring the COVID-19 Community Level in your area. Please remember, you may choose to wear a mask at any time.
Thank you to those who attended our September 30 CEU Conference, Reading Instruction: Aligning with Evidence to Maximize Outcomes.  We appreciate your feedback, and are looking forward to hosting our next in-person event.
Are you a prospective graduate student? Our program is happy to host your visit. Contact CDS Graduate Advisor Tim Overbeck (overbeck@fredonia.edu) to schedule your tour.