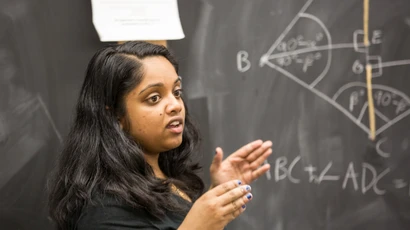 Teacher Certification Information
The Department of Mathematical Sciences offers degree programs that allow qualified students to pursue New York State initial and professional teaching certificates in Adolescence Mathematics (Grades 7-12) and Middle Childhood mathematics (Grades 5-9). Important information is outlined below for prospective mathematics educators:
Field Experiences:
Candidates are required to take coursework that provides 100 hours of field placement in area schools. These field experiences are coupled with on-campus classes incorporating both theory and practice. Freshman are encouraged to enroll in Introduction to Contemporary Mathematics Education (MAED 105) as a means for exposure to the teaching discipline.
Authentic Teaching Opportunities:
Faculty within the department actively spearhead a number of authentic teaching opportunities for candidates. These include the direction of Family Math Nights in area middle schools, Math Story Time, Tutoring in the Community, Fredonia's High School Math/Science Challenge, and presentations at the Association of Mathematics Teachers of New York State Annual Conference (AMTNYS).
Admission to Candidacy, GPA Requirements, and Gated Screening:
Initial unconditional admission to the program requires an overall GPA of 3.0 or greater. Candidates participate in annual Gated Screening/Advising that includes the development of a professional teaching portfolio. See this page for more specific information.
Certification Exams:
All candidates complete a battery of New York State Teaching exams prior to applying for licensure. The department along with the College of Education's student services coordinator ensure that candidates are aware of state teaching requirements. Consult with Dr. Howard for more information.
Student Teaching:
Student teaching serves as a transformational capstone experience. Candidates participate in two separate seven-week placements. All candidates must meet minimum GPA and coursework requirements prior to receiving placements. Most placements occur in Chautauqua and Erie County; however an articulation agreement also exists with New York City Public Schools.
Masters in Education – Mathematics 7-12:
Candidates are encouraged to consider completing their Masters degree within the department. The degree program leads to partial fulfillment of professional teaching certification in New York State. With appropriate advising, full time students can complete the 30 credit program in a single calendar year. Part time students can take advantage of afternoon/evening classes while teaching. Competitive teaching assistantships are also available for highly-qualified applicants.
Employment Opportunities:
Shortages in mathematics education are anticipated. Alumni are teaching throughout the United States and abroad. Simply let us know where you plan to teach and we can likely find you a Fredonia graduate of the program. Candidates participate in annual Teacher Recruitment Days during the second placement of student teaching. Job offers are often multiple and immediate.