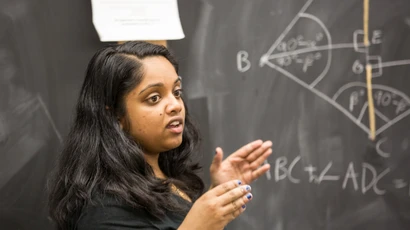 What is advising?
Every student at Fredonia is assigned a faculty advisor. Advisor assignments for students majoring in Mathematical Sciences are posted on the bulletin board next to Fenton 223. Your advisor is available to answer questions and offer guidance regarding courses, degree and graduation requirements, and career preparation. In addition, you will schedule an appointment with your advisor during Advising Week (usually in the 10th week of the semester) in order to create a schedule of courses for the following semester. Use the Academic Advising Checklist to prepare for your advising appointment.
While your advisor is an excellent resource, ultimately it is the student's responsibility to understand and meet all requirements and deadlines. Here are some things to find out:
How many credits do you need to graduate?
What courses do you need to take to complete your major? Make sure you fully understand the requirements for all majors and minors that you declare.
What are your general education requirements? What is the requirement for 45 credits at the Upper Level?
Is there a minimum GPA you need to maintain? Is this for all your courses, or just courses in your major? How do you compute GPA?
Before you enroll in a course, have you satisfied the prerequisites? How do you find out what they are?
If you are a teacher certification candidate, are there additional requirements you must meet? What do you need to complete before you're allowed to enroll in student teaching?
A lot of these questions can be answered by consulting the University Catalog (in particular this page), departmental websites, and the Registrar's Office website. For example, you can find links to course checklists for all majors and minors in the Mathematical Sciences here. Your advisor can help you answer these questions, in addition to discussing career preparation, internships, and research opportunities.
You can check progress toward your degree using DegreeWorks; you'll find more information here.