Art of Improvisation
Art of Improvisation
August 4-9 2019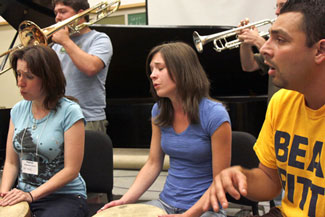 Photo by Julie Weber
Join Music for People and an extraordinary group of advanced and professional musicians as you explore the Art of Improvisation with the kind of commitment, nuance, and profundity found in fine classical ensemble playing and the best jazz, rock and world music combos. In an energetic, humorous and open-minded environment, discover how to move beyond the inhibitions of musical training while playing at the peak of your technical and expressive ability in your preferred musical style.

Art of Improvisation is for musicians and vocalists experienced in any musical tradition, including classical, jazz, theater, rock, ethnic, avant-garde, etc.; and all instruments including acoustic, electric, ethnic drums and percussion, and even homemade. Prior experience in improvisation is not necessary. This in-depth workshop is intensive, yet always fun and rewarding. The AOI workshop includes free time for jamming, as well as impromptu showcases, providing participants with the opportunity to improvise in front of each other while their performances are professionally recorded.

Free Improvisation opens doors of creativity for both performers and teachers. This workshop will inspire teachers to take Improvisation, one of the National Educational Standards, into their classrooms.

For more information and to register, visit Music for People or call 860-491-3763.

Graduate credit (3 credits) is available for this workshop. For more information, please contact the Fredonia Office of Extended Learning, 716-673-3177.
CTLE (CEU) credit is also available. Please register through Music for People. Please call Music for People at 860-491-3763 for details.
Questions about the workshop? Email David Rudge at david.rudge@fredonia.edu for more information.