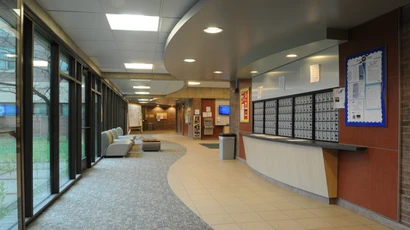 Returning Student Roommate Matching
Roommate Matching
Returning Students: There will be a roommate matching period from March 6th until April 3rd. All requests must be mutual. If you are having issues finding your intended roommate or want to double check that your request is mutual, please contact reslife@fredonia.edu before April 3rd.
All roommate requests MUST be mutual. You can only select ONE roommate during this process, suite filling requires an additional form.
Under MyHousing you can also fill out a Roommate Profile under Personal Information. This will allow other students to view any information you wish to share. This is optional.
If your roommate request says MATCHES, then you do not need to do anything further as your roommate match is mutual and matched. Please make sure you have a conversation with your intended roommate about which room selection process/building you are trying to get into.
Roommate Matching Tutorial (PDF)
*Please note, if you are applying to the townhouses, you will have to select 3 other people in the roommate matching process.
---
Students should be aware that the university reserves the right to change room assignments, consolidate rooms and close halls if it appears occupancy requests fail to fully utilize or exceeds the total number of spaces available.
If you are looking to room with an incoming first year student, please email reslife@fredonia.edu for further instructions.
Can I have a single room?

We will have a limited number of single rooms available. It is your responsibility to make sure you have selected a single room during room selection if that is your preference and if there are any available. If you cannot find a single room in the building of your choice, that means that single rooms are gone in that building.
If you need a single room for a medical purpose, you need to contact the Office of Disability Support Services prior to April 3rd.
If you do not select a roommate during roommate matching and select a double room during room selection, then any student can place themselves into that room. If no one picks during the room selection time periods, then the Office of Residence Life will assign students to that space prior to move-in weekend. If you have selected a double room, then you will be billed for a double room and given a roommate without prior notice. Roommate assignments will be sent out during the first week in August via Fredonia e-mail. You cannot request that space as a single room after a roommate has been assigned.

What if I cannot find my roommate's name in the roommate matching search?

Make sure that you are putting the last name in the correct field and that it is spelled correctly. Make sure that your roommate has completed the application. If those two steps don't work, try searching LAST NAME ONLY.
Do not search for your roommate using the e-mail field.
The less fields you enter during your search, the more results you will find.
If you are searching for someone of a different gender identity, please complete the Gender Inclusive Agreement form instead of roommate matching.

Can I request to fill a suite?

Yes! We will allow suite filling for groups of 8! Please make sure to fill out the complete suite form.
If you are requesting a kitchen suite, please note that this is a different process and requires an additional kitchen suite form.

What if I want to live with a new student?

Please e-mail Residence Life with the new student's name by April 3rd. The new student should also e-mail us prior to April 3rd with this request so that we know it is mutual. We will give you further instructions at that time. If you are requesting to live with a first year student, we will place you into a first year building.

Can I request a roommate if they have not done the housing application?

No, you cannot. You can only request a roommate that has completed the application by the deadline date of April 3rd. If you do the application late, you will not be able to select a roommate during this process.
If you have any questions or concerns, please contact the Office of Residence Life at 716-673-3341 or Residence Life. If you have more questions, please review our Frequently Asked Questions.