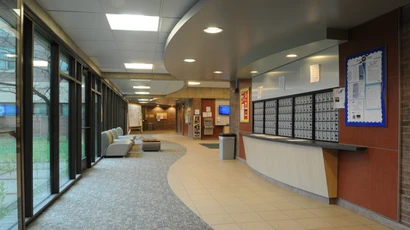 Returning Student Application
*In order to be eligible to participate in the Room Selection Process beginning April 13th, you will need to complete the Returning Student Housing Application.
Returning Student Room Selection Application
March 6, 2023 (8:30 am) - April 3, 2023 (11:59 pm)
All students are required to fill out the online housing application in order to participate in room selection. You can find the application under MyHousing. If you need instructions on filling out the housing applications, please review our Housing Application Tutorial (PDF). Please make sure to SUBMIT your application, you will receive a confirmation e-mail once your application is completed.
Important things to note:
Please read the 2023-2024 Housing License (PDF) carefully. This is the first page of the application and you will need to sign at the bottom to indicate that you have read the license. This license is a contract for the entire 2023-2024 academic year.
If you are looking to participate in Kitchen Suite Room Selection, you MUST select this on your housing application and fill out the Kitchen Suite Proposal Form. Please note that the deadline for all kitchen suite information is April 3rd at 4:30 pm.
If you are looking to fill a suite, you MUST select this on your housing application and fill out the Complete Suite Proposal Form. This form is due by April 3rd.
If you do not complete and submit your housing application by April 3, 2023, you will not be eligible for Room Selection. There will be a late application available that will put you into a room selection process that will occur after everyone has completed their room selections.
If you need a specific room for medical purposes, indicate this on your application. It is your responsibility to contact the Office of Disability Support Services for Students at 716-673-3270. No accommodations can be made unless you contact that office. Please review our Medical Accommodation Policy. Please make contact with this office by April 3rd at 4:30 pm.
If you are interested in Gender Inclusive Housing, please indicate that on your housing application. Before you indicate this, please make sure to read the Gender Inclusive Agreement so that you understand what you are selecting. All agreements are due on April 3rd at 4:30 pm.
It is your responsibility to make sure your housing application is accurate and submitted on time.
If you can only see the new student application, please email this office immediately (reslife@fredonia.edu).