Move In Guide: Fall 2020
We are so excited to welcome you to Fredonia. To make your transition to college life easier, we have collected some important information for move-in weekend that we hope will be beneficial.
Remember to always check your Fredonia e-mail for updates!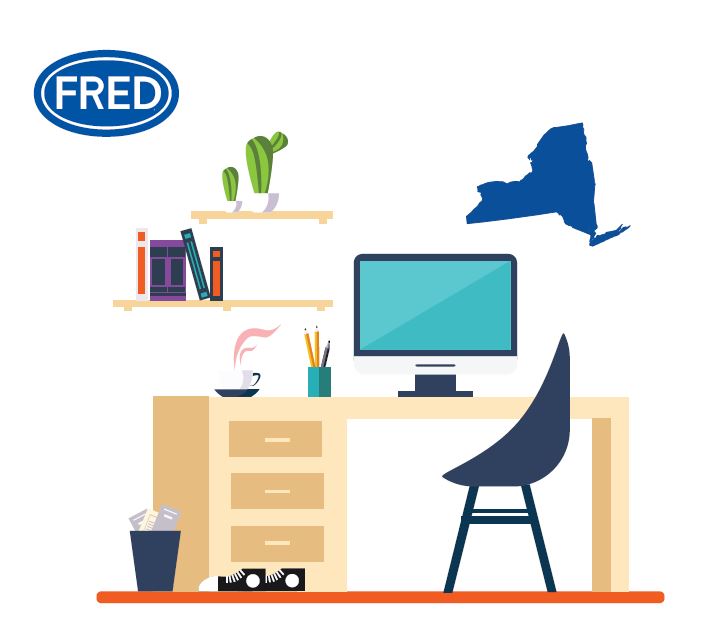 PLAN AHEAD! These dates are firm. Please plan travel arrangements accordingly.
Returning Students: Residence Halls will be open from 9:00 am - 9:00 pm on Saturday, August 22nd and Sunday, August 23rd for returning students. Go directly to your residence halls to check in.
New Students: New students will move in on Thursday, August 20th and will have a mandatory hall meeting at 9:00 pm that evening. See traffic maps below.
Townhouse Students: Please contact Dan Goodwin regarding your move-in.
Move-In Crew: The move-in crew will be available on August 20th (9:00 am - 4:00 pm)
Students who have Ensemble Auditions may find the schedule and information regarding moving in at www.fredonia.edu/music/instrumental-audition
*Please note that there will be no arrivals permitted prior to August 22nd unless students are returning for an academic reason that has been approved by the Director of Residence Life in conjunction with the appropriate faculty member. Students cannot request early access, the request must come from a faculty/staff member and be for an academic reason.
To help make move-in a wonderful experience, please read the following information carefully.
1. Make sure to wear cool, comfortable clothing and to drink lots of water. Move-in day is a busy day for everyone on campus, so please be patient and have fun!
2. Familiarize yourself with the campus layout and parking information.
3. Arrive on campus and go directly to your residence hall!
4. Park in the unloading zone nearest to your residence hall.
5. Unload your vehicle
6. Check-in and get your room key
7. Move your car to parking
8. Congratulations! You are all moved in – it's time to decorate your room.
Welcome home!
Download printable Driving Maps:
Alumni Hall (PDF)
Hendrix & Igoe Halls (PDF)
Chautauqua, Nixon, McGinnies Halls & University Commons (PDF)
Disney, Eisenhower, Schulz, Hemingway Halls (PDF)
Kasling, Grissom, Gregory Halls (PDF)
All Residence Halls (Combined Map PDF)
Download printable Parking Map:
Long-Term Parking Map (PDF)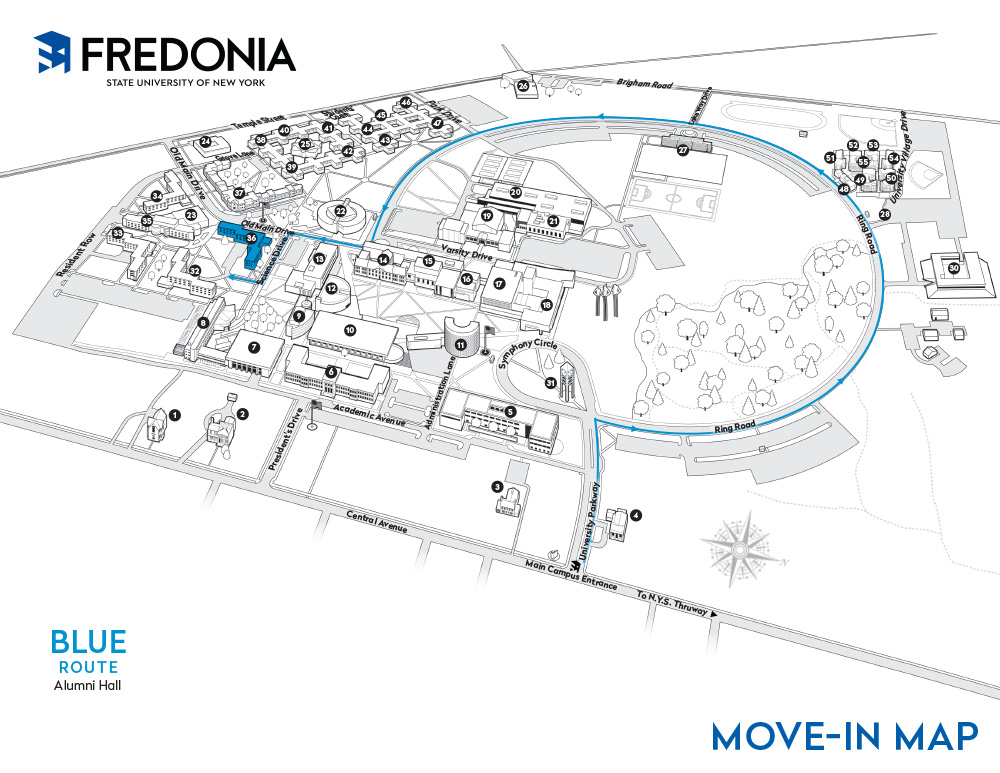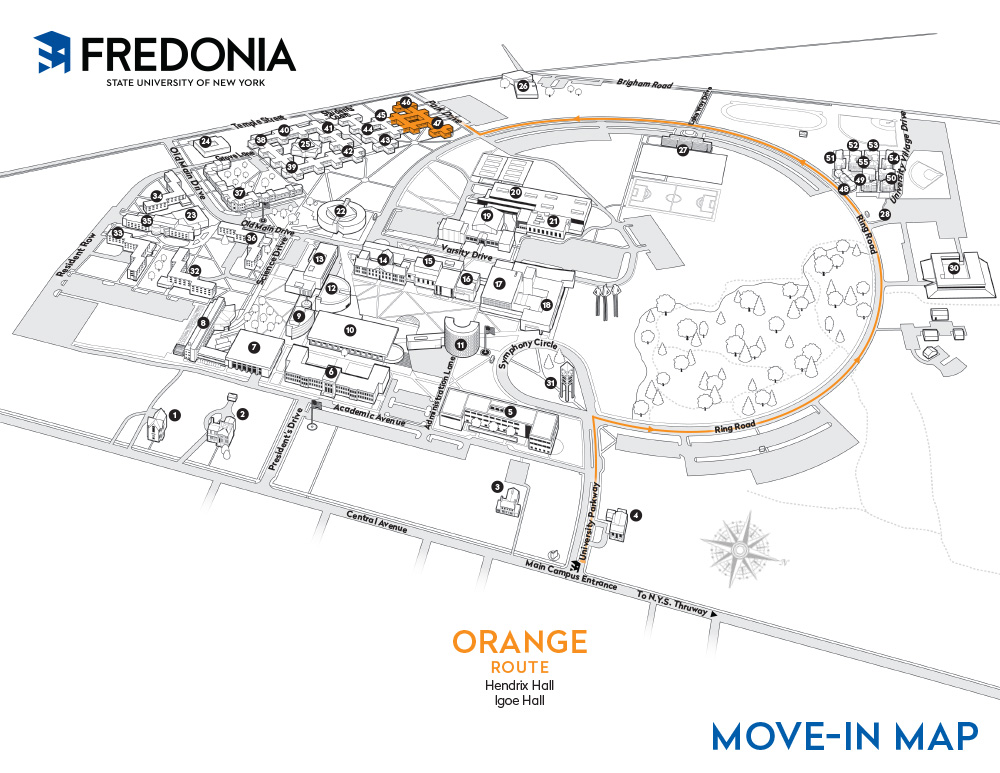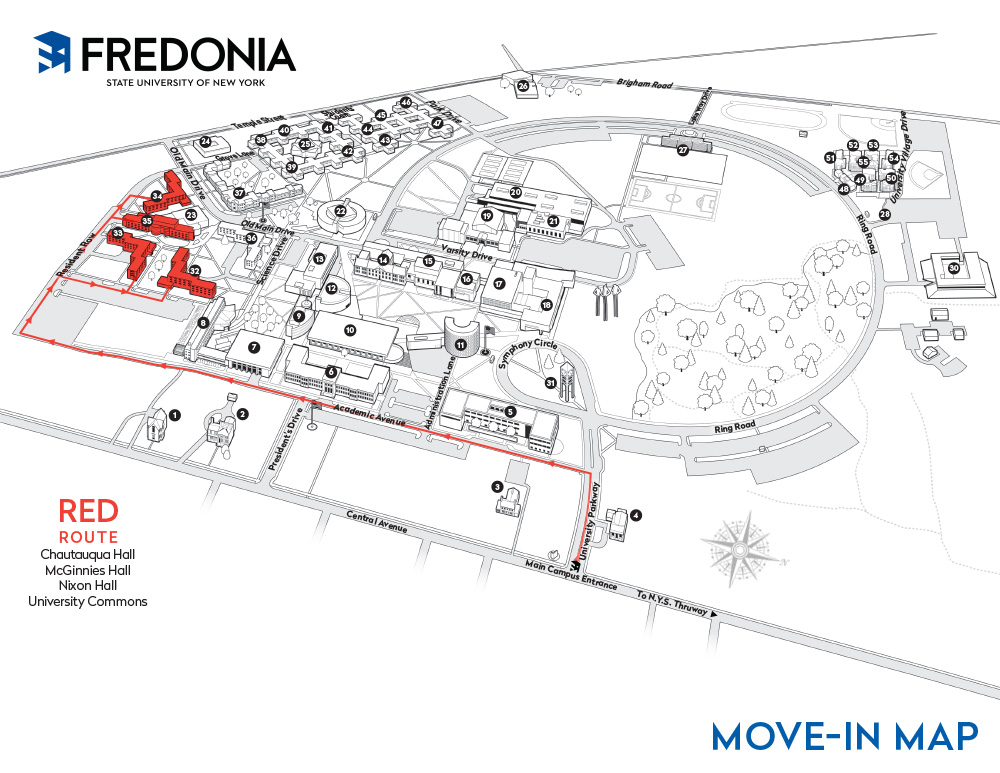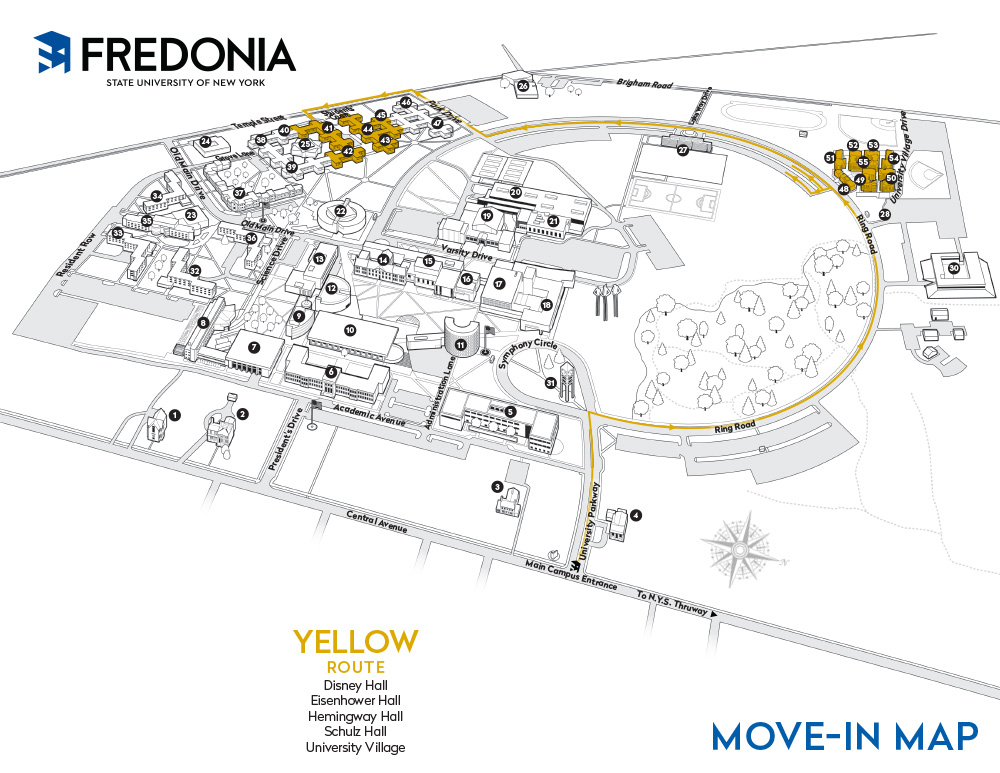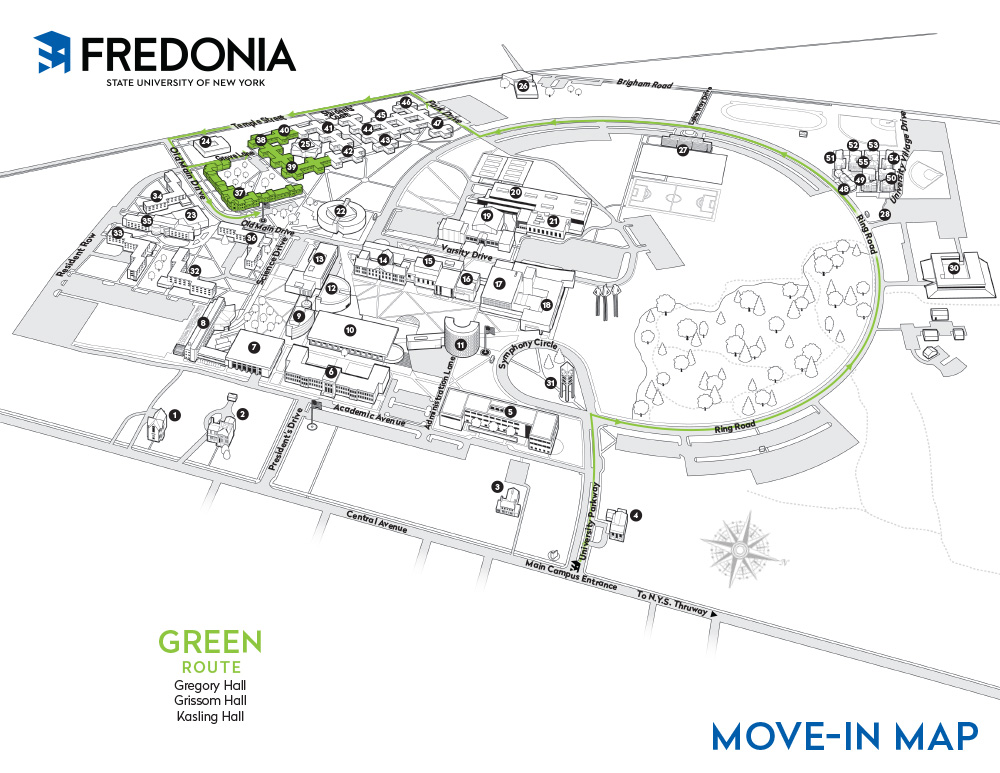 Long-Term Parking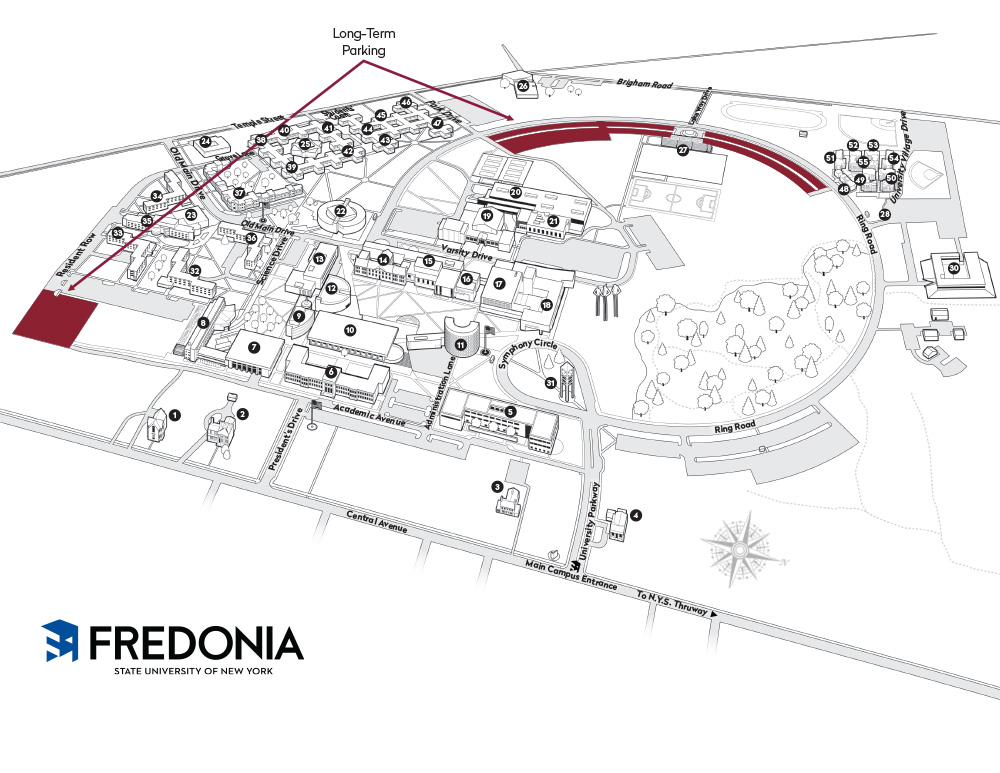 You have one hour to unload your vehicle. Please relocate your vehicle to the Long Term Parking Area at Lot 9A,B,C or Lot 19A (indicated in dark red, above). A shuttle bus will provide transportation from the parking area back to the Residence Hall area on Saturday, August 24th.
As exciting as it can be to move into a residence hall, it can also seem nerve-wracking to live with someone new for the first time. That being said, having a roommate can be a wonderful chance to learn about others. Here are some tips for creating a great roommate relationship!
1. Be honest and be yourself! Like any new relationship, you'll want to start off on the right foot and be true to who you are. This way your roommate can get to know the real you. If you are open about your own personality, wants, and needs, it's likely that your roommate will open up as well.
2. Have an open mind. Not everyone is coming from the same background that you are, in fact most people that you meet while in college will have come from walks of life that are vastly different from your own. Try to be understanding and considerate of others' identities and experiences.
3. Set clear expectations from the beginning. You and your roommate will never know exactly what each other is thinking, so you need to be clear about what your expectations are for the shared space. Consider this: who is going to be responsible for taking out the garbage? How late can you leave the lights on at nightt? Can you borrow each others' belongings? These are important questions, so we recommend discussing these with your roommate soon after you move in. Roommate contracts can be super helpful!
4. You don't have to be best friends with your roommate, or even friends at all. We could never expect you to force a friendship with someone when it's not meant to be. However, we do expect that you can build a respectful relationship and share the space that you both pay for. Some roommates do become good friends, others just chat every now and again. Either type of relationship is fine, so long as you are able to communicate with and respect each other.
5. When in doubt, talk it out. Just like how you and your roommate are likely to have different lifestyles, you're also likely to have different ways of addressing conflict. No matter what your relationship is with your roommate, conflict is bound to arise at some point. The best way to make sure you get through it is to talk about it.
6. Remember, there's always someone here to help! Make sure you get to know your designated Resident Assistants, as they can help when conflict becomes too tough to handle. RAs are specially trained in mediation and conflict management and are always happy to help you work it out.
Please note: we do not make changes prior to move-in weekend based on a student's social media presence.
There is daily U.S. Postal mail service delivery provided to all halls. Roommates will be assigned a locked mailbox in the main lobby of their residence hall. Carry your mailbox key with you as mail cannot be handed out over the counter as per Federal Post Office regulations.
Packages will be held in the FSA Bookstore during regular business hours. PLEASE NOTE: Guaranteed express or other timed early delivery packages are independent of Fredonia. The bookstore's regular business hours can be found here.
Your mailing address should be formatted as follows:
First Name Last Name
Room # and Building (EXAMPLE: 900 Alumni Hall)
The State University of New York at Fredonia
Fredonia, NY 14063
If you have any questions regarding packages, please contact the Bookstore at (716) 680-6295. More information on student mail can be found here.
Bookstore hours during move in weekend:
Thursday, August 20th: 9:00 am - 5:00 pm
Friday, August 21st: 9:00 am - 5:00 pm
Saturday, August 22nd: 9:00 am - 5:00 pm
· Residence halls are locked 24/7 and are accessible only to residents of the building with a FredCard.
· Guests must be escorted in the building at all times.
· Blue light call boxes are located throughout campus for immediate access to University Police.
Other safety tips:
· Don't hold the door open for strangers entering the building, they must use their FredCard. We know it seems rude, but it's okay!
· If you see anything suspicious, report it to University Police.
· Never lend out your room key or FredCard.
o There is a $30 fee for lost keys and a $20 fee for FredCards. Keys take up to 2 business days to be cut after payment is made – so please make sure you always know where your key is!
If you have lost your room key, please follow the steps on the lost key website.
If you have lost your FredCard, please go directly to the FSA Office in Gregory Hall.
Always keep your door locked!
The Office of Residence Life also offers some other amenities around campus.
The Wellness Center is located in the Schulz Hall basement area and is a total fitness center with up-to-date equipment such as an elliptical machine, treadmills, stationary bicycles, a full nautilus circuit and free weight area.
The Aerobic Center is located in the Hemingway Hall basement area and provides a wide range of classes including body sculpting, high-energy aerobics, and yoga. It offers many classes per week to fit your busy schedule and there are stationary bicycles, treadmills and free weights for additional cardiovascular benefits.
The Craft Room is located in Disney Hall and is available to residents. Flyers and schedules are posted every month announcing open hours and classes available throughout each week.
The E-Sports Lounge is located in Schulz Hall and is available to residents.
Faculty Student Association is focused on providing the campus community with quality services and products in a fiscally responsible fashion. It offers a variety of food choices including healthy, vegan, and vegetarian options. If you live on campus, you are required to sign up for a meal plan.
FREDCards: If you do not have your FREDCard, you need to complete that process (or pick up your ID) between 8:30 a.m. and 6:00 p.m. at the FSA Office in Gregory Hall. Reminder: you will need to bring a government issued picture ID (license, permit, passport, or previous school ID with a copy of your birth certificate) to receive your FREDCard.
You can visit the FSA website to find the perfect meal plan for you!
**Meal plans begin on Friday, August 21st for breakfast!**
**Parking is free for students!**
To register your vehicle, please go to: https://ww2.fredonia.edu/Parking
Please register your vehicle online by August 23, 2019. You will be directed to pay your $5.00 fee using MasterCard, Visa, Discover or American Express. Once the payment is made, you will be prompted to update your vehicle information and request a sticker. Please take the time to ensure that your vehicle registration information is accurate and complete. Once your vehicle registration and payment are received, your sticker will be mailed to you at your campus address. The sticker must be properly displayed on your vehicle.
During the first week of classes, stickers will be sold only in the Williams Center, Main floor, from 8:30 AM to 4:00 PM.
Be advised that the University Police Department will begin ticketing unregistered vehicles on Monday, August 31, 2019.
Should you have any questions regarding this process, please feel free to contact the Student Accounts Office at 673-3236.
Laundry rooms are provided in the basement of the suite style buildings, on the first floor of the corridor buildings, on each floor of Gregory Hall and University Commons, and in each unit of the University Village Townhouses. These rooms are open and available 24 hours a day. Laundry facilities are included in the room rate and require no currency to operate. Availability of the machines can be found here. These facilities are to be used by resident students only.
The ResNet Office provides residential technology support and campus access control services for students, staff and guests within the residence halls. Located in McGinnies Hall, ResNet employs seven students every semester as information technology support technicians called ResNet Technicians.
Financial Aid: Unfortunately each student has an invidual Financial Aid package, therefore, we are unable to answer any financial aid questions.
Student Accounts: We can tell you why our office specifically billed you a certain way, but if you have other questions about your e-bill or parking passes, please contact Student Accounts!
FSA: Students with questions about meal plans or FredCards should contact FSA.
ITS Help Desk: If you need help accessing YourConnection and your e-services, the ITS Help Desk is where you should go!